Silver American Eagle Bullion Coin
The American Silver Eagle was first issued in 1986 and since then more than 200 million silver eagles have been struck. The Silver Eagle is a very collectible modern issue. With the recent rise in silver spot prices the coin's popularity has skyrocketed-ten of millions are struck each year. The American Silver Eagle was the first and, until 2012, the only silver bullion coin issued by the United States.
Year: 1986-Present
Obverse Designer: Adolph A. Weinman
Description: "Walking Liberty"
Reverse Engraver: John Mercanti
Description: Heraldic Eagle with Shield, symbolizing strength and endurance.
Gross Weight: 1oz.
Composition: 0.9990 Pure Silver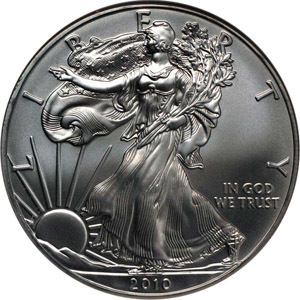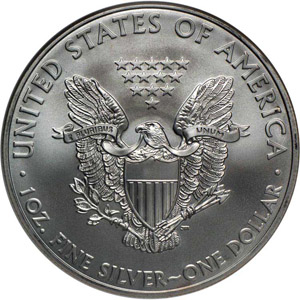 Back To Coins Database