Platinum American Eagle Bullion Coin
The first Platinum Eagles were struck in 1997 in one-tenth, one-quarter, one-half, and one ounce sizes. All share the same obverse design, a Statue of Liberty motif, and the uncirculated issues have a flying eagle reverse design. Proofs have a different design each year, which is unique among the American Eagle bullion coin series.
Year: 1997-Present
Obverse Engraver: John Mercanti
Description: "Portrait of Liberty," Lady Liberty looking toward future.
Reverse Engraver: Thomas D. Rogers
Description: Eagle soaring above America.
Gross Weight: 1oz.
Face Value: $100
Composition: 0.9995 Pure Platinum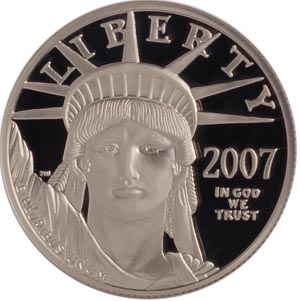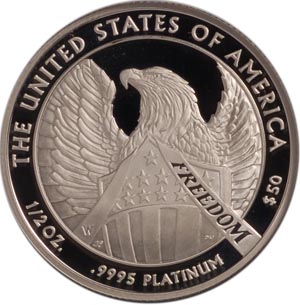 Back To Coins Database