American Gold Eagle
The Gold Bullion Coin Act of 1985 authorized the United States Mint to issue one-tenth, one-quarter, one-half, and one ounce gold bullion coins. The law required the gold to come from American sources. The American Gold Eagle coins were first issued in 1986. The obverse of the American Gold Eagles is a modified version of the Augustus Saint-Gauden's design for the $20 gold piece. The reverse features a "family of eagles" design by Miley Busiek.
Year: 1986-Present Obverse Designer: Augustus Saint-Gaudens
Description: Modified design of Saint Gauden's U.S. $20 Gold Coin Design, "Standing Liberty".
Reverse Designer: Mrs. Miley Frances Busiek
Description: "Family of Eagles" motif, symbolizing family tradition and unity.
Coin Size: 1oz.
Face Falue: $50
Gold Content: 1 oz. 31.1035g
Coin Size: 1/2-oz.
Face Value: $25
Gold Content: 0.5000 oz. 15.5517g
Coin Size: 1/4-oz.
Face Value: $10
Gold Content: 0.2500 oz. 7.7759g
Coin Size 1/10-oz.
Face Value: $5
Gold Content 0.1000 oz. 3.1103g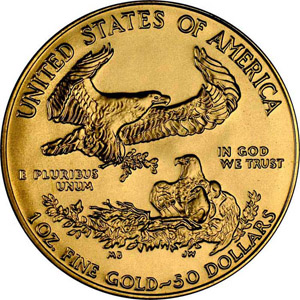 Back To Coins Database